Parking Permit Return and Reimbursement Information
PERMIT REFUNDS
When submitting a refund request, students and faculty/staff will need to complete the online form, which can be accessed by the link below. You will need to log into your parking account using your UNM Net ID and password. For your request to be processed, please remember to cut your permit in half (see example below) and attach a photo of your cut permit to your completed form. Your refund should be processed within 10 business days from the time of request; the amount of time may vary by a few days depending on the reimbursement method.
For any questions contact PATS at (505) 277-1938 during business hours: 7:30am-4pm, Monday through Friday.
Students
As per existing policy and practice, the last day for students to submit a refund request is March 31.
Faculty & Staff
Please be advised that if you return your permit you may not be able to get it back into the same zone/structure if you purchase another permit.

If you do not have a UNM Net ID and password, please contact PATS at (505) 277-1938 for assistance.
Cutting Your Permit
Cut diagonally through the body of your permit, see image below for details.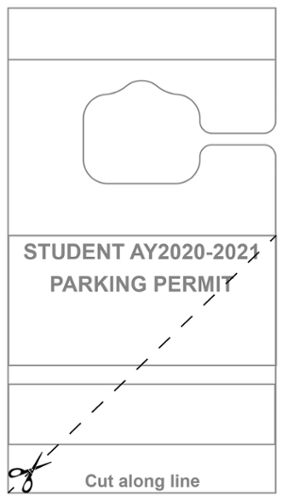 Prorated Refund Request
For a pro-rated refund for your permit, please contact the PATS office during business hours by calling (505-277-1938 or sending an email to parktran@unm.edu. Please review the following information for how the reimbursement will be made:
Bursar Payments (students only): If payment was transferred to your Bursar's account, the prorated refund will be transferred to your Bursar account.
Credit Card Payments: If payment was made by credit card, a check request will be submitted to UNM Accounts Payable for processing. Please allow up to ten business days to receive your prorated refund.
Payroll Deductions (fac/staff only): If payment is paid by Payroll Deduction, a "stop deduction" will be processed through UNM Payroll. NOTE: Timing of the stop of a payroll deduction is entirely based on when payroll is processed by UNM. To ensure you are not charged for an additional pay period:
Biweekly returns must be requested at least six (6) business days before the biweekly pay day
Monthly returns must be requested at least nine (9) business days before the monthly pay day
To ensure same-day processing, all refund requests must be submitted by 12 p.m., Monday through Friday.