Closure of "B" permit parking on Redondo Dr.
March 8, 2019 - PATS Admin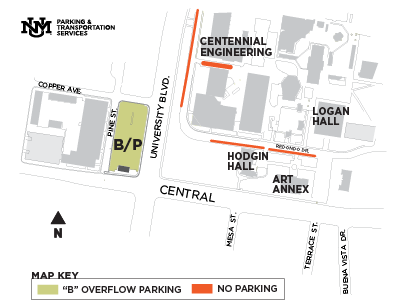 UNM Parking and Transportation Services (PATS) would like to inform "B" permit holders of the closure of "B" permit parking spaces along the western leg of Redondo Dr. taking palace this Saturday, March 9 through Monday, March 11. 
Due to special event on campus, all "B" permit parking spaces located along the east side of Redondo Dr. will be barricaded and inaccessible. Other "B" permit areas (e.g. the lot serving Clark Hall, Carlisle Gym and Northrop Hall) should not be impacted during this closure.  Overflow "B" permit parking will be available in the B/P combined lot located at the corner of Central Ave. and University Blvd. See attached map.
We apologize for any inconvenience this may cause. For additional information or updates, contact the PATS business office at 277-1938 and follow us on Facebook and Twitter with the handle @UNMPATS
Thank you,
UNM Parking & Transportation Services
505-277-1938
pats.unm.edu
parktran@unm.edu