Partial closure in T Lot
March 8, 2019 - PATS Admin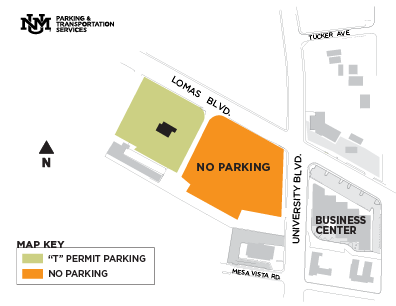 UNM Parking and Transportation Services (PATS) would like to inform "T" permit holders of a partial parking lot closure in T Lot taking place this Saturday, March 9 at 2 p.m. and lasting through Monday, March 11 at noon.
The east half of T Lot, between the Lomas Blvd. entrance and extending eastward to University Blvd., will be blocked off to accommodate for a special event Entrance to T Lot from University Blvd will be closed to traffic. Permit holders may park in the west portion of "T" Lot during this closure. See attached map.
We apologize for any inconvenience this may cause. For more information or updates call the PATS business office at 277-1938 or follow us on Facebook and Twitter with the handle @UNMPATS.
Thank you,
UNM Parking & Transportation Services
505-277-1938
pats.unm.edu
parktran@unm.edu